2014 - 2015 Updated Catalog through 1/6/15
[ARCHIVED CATALOG]
2014 - 2015 Updated Catalog through 1/6/15
---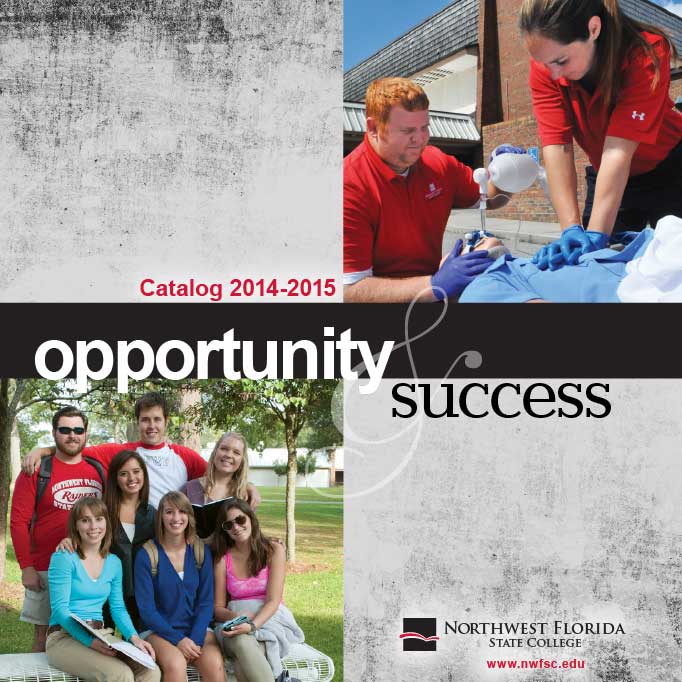 View the catalog by clicking on a menu item to the left.  "My Catalog" allows you to create a logon and save programs, courses and pages of special interest to you for quick and easy reference.  No logon is necessary to view the catalog. 
---
Accreditation
Northwest Florida State College is accredited by the Southern Association of Colleges and Schools Commission on Colleges to award baccalaureate and associate degrees, certificates and diplomas. Contact the Commission on Colleges at 1866 Southern Lane, Decatur, Georgia 30033-4097 or call 404-679-4500 for questions about the accreditation of Northwest Florida State College.
---
 

Approved By

Florida State Department of Education

Member

Southern Association of Colleges and Schools Commission on Colleges
Florida College System Activities Association
Association of Florida Colleges

Board of Trustees

C. Wayne Ansley
D. Bradley Drake
Michael M. Flynt, Sr.
Rachel R. Gillis
Brian S. Pennington
Marijo Strauss
Hayward Dykes, Attorney for the Board

Dr. Ty J. Handy
President and Corporate Secretary
---
The provisions of this publication are not to be construed as a contract between the student and Northwest Florida State College. The college reserves the right to change any provision or requirement when such action becomes necessary. Official announcements are available through the Office of Academic Affairs, Student Affairs and are posted in the Student Services Center, and when possible, listed in the Schedule of Classes. Students are responsible for meeting, in full, the appropriate requirements for graduation or program completion and are advised to work closely with counselors/advisors in planning of a program of study. Students are expected to familiarize themselves with all rules and regulations of the college.
Northwest Florida State College is dedicated to the concepts of equity and equal opportunity. It is the specific intention of the college not to discriminate on the basis of age, color, ethnicity, disability, marital status, national origin, race, religion, genetic information, or gender, in its employment practices or in the admission and treatment of students in its programs or activities. The Northwest Florida State College Equity Coordinator may be contacted at 850-729-5365 or in Human Resources in the Administration Building on the Niceville Campus (100 College Blvd., Niceville, FL). The Equity Coordinator is designated to coordinate compliance with the Florida Educational Equity Act and information about the availability of the colleges' grievance procedures. The Equity Coordinator is also coordinator of Title IX of the Education Amendments of 1972.
---